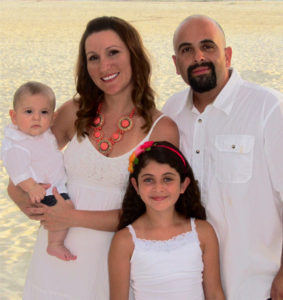 Rick & Marcella Salcedo have a heart for outreach locally and abroad. They host special nights of ministry throughout the city as well as special retreats where they gather together drawing the spiritually hungry to the Father in order to experience his loving touch.
Rick encourages soaking in His presence.  This is simply positioning yourself to commune with God. Soaking is also contemplative prayer. In the bible, soaking is "tarrying" upon the Lord. Soaking is waiting upon the Lord and tarrying until His promises are fulfilled, power is received, His plans are revealed, and His purpose prevails. Soaking is tarrying until we become mindful and come into agreement with what He is doing in this hour, in our lives and in our sphere of influence.
Every relationship needs time to develop. Our relationship with our Heavenly Father is no different. Soaking is setting time aside to tarry with our Father. Soaking is spending time in God's presence, rather than striving. It's about resting in His Presence, experiencing Him and choosing to be intimate with Him. We were each created in His image, created with a need for a deep, personal relationship with our Father.
God made it possible for each of us to have relationship with Him by sending His son, Jesus, to die on the cross for our sins.While we base all our beliefs on the Word of God, our experiences with Holy Spirit reveal the truth about God's nature, character and attributes. Soaking moves you beyond the realm of interpreting the word of God, to experiencing the truth through revelation of God's word. When we soak we focus on Him, His word, His promises and His truth. Soaking puts us in a position where we are often more able to hear His voice and receive His love. Soaking leads to deep lifestyle changes where we become familiar enough with our Lord's voice to be led by the Spirit of God like little children. Soaking is an opportunity for us to pour out our hearts to Him and allow Him to pour Himself unto us.
A soaking lifestyle is about living in and enjoying an on-going relationship with our creator. As people soak in God's Presence, they experience profound heart changes, come into a deeper, more intimate relationship with Jesus Christ and begin to develop a greater sensitivity to what Holy Spirit is doing in their lives; making it easier to partner with and cooperate with God's perfect will.